GLBasic SDK - Current Version
The current version can be found on
STEAM
.
GLBasic SDK - Version 15
GLBasic SDK, old version 15
Free use
: Create apps for non commercial 2D programs running on Windows, Linux and Mac OSX.
The extension to create programs for other platforms, 3D or network applications requires a license key. Otherwise the "Premium" programs are limited to 10 min runtime for test purposes. There is no trial limit for the development environment.
Download Now!
(~55MB)
Platforms
In order to install other compilers, please download the desired products using STEAM.
Tutorial Video
Here a short tutorial video (V6) that creates a complete game (even though it's a very primitive one).
Attention: The SPRITE command is now called DRAWSPRITE.
Find more videos :
YouTube
More?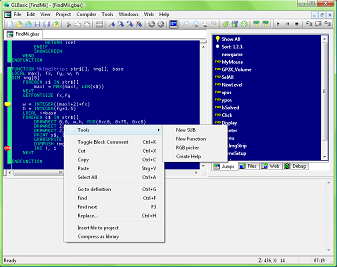 For more games and samples visit our
showroom