46
Hi,
find the attached 2 files. Place the .mm file in your xcode project. Drag it into the "classes" folder in XCode then.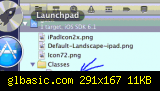 Include the gbas file into your project. Then, first, see if the service is available. If so, do the posting. You can either post text, url or an image.
Tadaaa.
The rotation might not be correct. Pardon me.